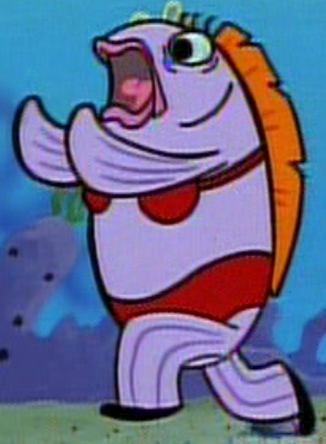 Vera Fishbowl/Appearances
Appearances
"Ripped Pants" (debut)
"Hall Monitor"
"Pickles"
"Prehibernation Week"
"Karate Choppers" (cameo)
"Valentine's Day"
"Texas"
"Walking Small"
"Neptune's Spatula"
"Your Shoe's Untied"
"Bubble Buddy"
"Wormy"
"Patty Hype"
"Christmas Who?"
"Mermaid Man and Barnacle Boy III"
"Squirrel Jokes"
"Jellyfish Hunter"
"Missing Identity" (in SpongeBob's daydreams)
The SpongeBob SquarePants Movie (cameo)
"Selling Out" (cameo, paid Mr. Krabs' $1)
"SquidBob TentaclePants" (2.5 to 3 cameos)
"All That Glitters"
"Friend or Foe?"
"New Digs"
"Roller Cowards"
"Mermaid Man vs. SpongeBob"
"What Ever Happened to SpongeBob?" (deep in riot crowd outside)
"The Two Faces of Squidward" (cameo)
"Banned in Bikini Bottom" (brief cameo)
"Stanley S. SquarePants" (SUPER brief cameo)
"Sun Bleached"
"Patty Caper"
"The Krabby Kronicle"
"The Slumber Party"
"SpongeBob SquarePants vs. The Big One"
"Krusty Krushers"
"Shuffleboarding"
"Professor Squidward"
"Sand Castles in the Sand"
"Chum Bucket Supreme"
"Truth or Square"
"Tunnel of Glove" (deep in long line)
"The Wreck of the Manua Loa" (SUPER brief cameo)
"Squidward's School for Grown Ups"
"Fiasco!" (cameo)
Karen 2.0 (line only)
"It's a SpongeBob Christmas"
"Bulletin Board"
Ad blocker interference detected!
Wikia is a free-to-use site that makes money from advertising. We have a modified experience for viewers using ad blockers

Wikia is not accessible if you've made further modifications. Remove the custom ad blocker rule(s) and the page will load as expected.