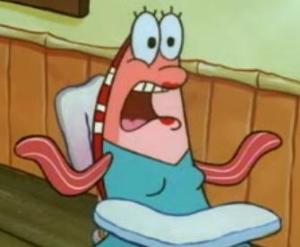 Tina Fran/Appearances
"Ripped Pants" (Debut)
"Hall Monitor" (Name revealed)
"Squeaky Boots"
"Valentine's Day" (2nd name revealed)
"Walking Small"
"Big Pink Loser"
"Dying for Pie"
"Prehibernation Week"
"Life or Crime" (non-speaking cameo)
"Procrastination"
"My Pretty Seahorse"
"The Great Snail Race" (deep in crowd scene)
"SquidBob TentaclePants"
"All That Glitters" (2 cameos, seen with John, and her eyes covered by Evelyn)
"Wigsturck" (minor role)
"Best Day Ever"
"Gullible Pants"
"The Krusty Sponge"
"The Original Fry Cook" (cameo, admiring Jim)
"The Two Faces of Squidward"
"Stanley S. SquarePants" (cameo, she gets out of the Krusty Krab)
"Suction Cup Symphony"
"Sun Bleached"
"Krusty Krushers"
"Chum Caverns" (cameo)
"SpongeBob's Last Stand"
"The Cent of Money"
"Sponge-Cano!"
"Buried in Time" (cameo)
"Earworm" (cameo)
"Tunnel of Glove"
"The Wreck of the Mauna Loa"
"Fiasco!" (non speaking cameo)
"Demolition Doofus" (does not speak)
"Hello Bikini Bottom!"
"Squid Baby"
"Don't Look Now"
"Lost in Bikini Bottom"
"Squid Plus One"
"What's Eating Patrick?"
"The Sewers of Bikini Bottom"
"Married to Money" (cameo)
"Goodbye, Krabby Patty?"
The SpongeBob Movie: Sponge Out of Water (She is seen in the credits)
Ad blocker interference detected!
Wikia is a free-to-use site that makes money from advertising. We have a modified experience for viewers using ad blockers

Wikia is not accessible if you've made further modifications. Remove the custom ad blocker rule(s) and the page will load as expected.