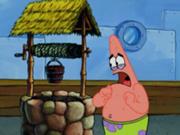 The? Eugene Krabs Memorial Wishing Well, or simply the? Wishing Well, is a well built by? Mr. Krabs? to collect money from wishers. Patrick refers it to a "magical talking trash can." Mr. Krabs sent? SpongeBob? and? Squidward? to stay down there to collect the money. Eventually,? Patrick? falls down into the well. SpongeBob and Patrick, dig even deeper and find the magic, meaning everyone's wishes come true. It's only appearance is? Wishing You Well.
Ad blocker interference detected!
Wikia is a free-to-use site that makes money from advertising. We have a modified experience for viewers using ad blockers

Wikia is not accessible if you've made further modifications. Remove the custom ad blocker rule(s) and the page will load as expected.