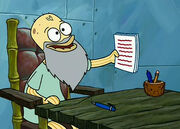 Sylvester/Appearances
"Mermaid Man and Barnacle Boy"
"Doing Time"
"Mermaid Man and Barnacle Boy III"
"The Great Snail Race"
The Emperor's New Groove
"Dunces and Dragons"
"Suction Cup Symphony"
"Krabs vs. Plankton"
"The Krusty Sponge"
"Rule of Dumb" (cameo)
"Krusty Dogs"
"Roller Cowards"
"Tunnel of Glove"
Ad blocker interference detected!
Wikia is a free-to-use site that makes money from advertising. We have a modified experience for viewers using ad blockers

Wikia is not accessible if you've made further modifications. Remove the custom ad blocker rule(s) and the page will load as expected.