'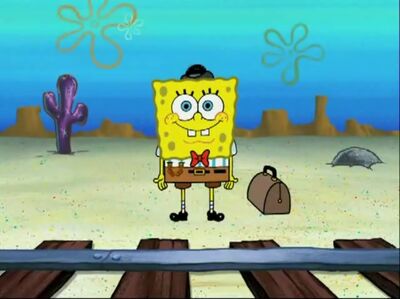 '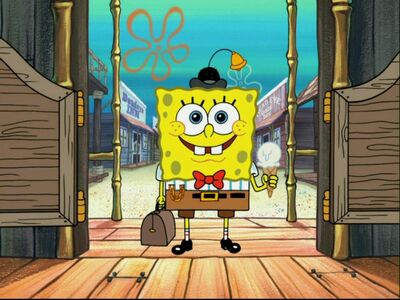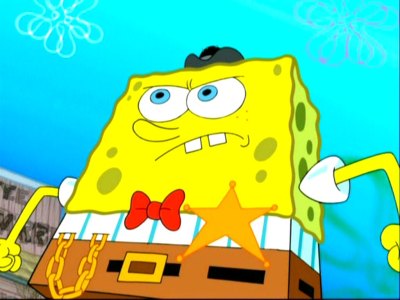 SpongeBuck SquarePants is an ancestor of the SquarePants family. He is the great-great-great-great-great-grandfather of Grandpa SquarePants, the great-great-great-great-great-great-grandfather of Harold, Blue, and Sherm SquarePants, and the great-great-great-great-great-great-great-grandfather of SpongeBob, BlackJack, Todd, and Stanley SquarePants. He appeared in "Pest of the West". SpongeBuck moved to Dead Eye Gulch, where he was seeking a job. He was immediately hired as the sheriff. He stood up to Dead Eye Plankton, a wealthy citizen who owned almost all the land in the town. SpongeBuck defeated him in a western-style stand-off, where he stomped on him. SpongeBuck had saved the town and in his honor, a statue was built. The statue was put in the center of the town, and, centuries later stood in downtown Bikini Bottom, where it was covered in jellyfish waste. When SpongeBob discovered his descent from SpongeBuck, he cleaned the statue to reveal his ancestor. SpongeBuck's story appears in the book, "Family Histories of Bikini Bottom". SpongeBuck has a tapeworm in his stomach. SpongeBuck SquarePants was an old Western hero that lived in Dead Eye Gulch. He sometimes hangs out at the Krusty Kantina. He rescued Dead Eye Gulch from being taken over by Dead Eye Plankton in 1870, the "Wild West period". He is best friends with Pecos Patrick. Both ancestors seem to have the characteristics of the present SpongeBob and Patrick. SpongeBuck only appears in the episode Pest of the West. After the events in the episode ended, he became the Father of Bikini Bottom and founded the modern city of Bikini Bottom.
SpongeBuck is a sponge, and he looks very similar to SpongeBob. The only major difference is the clothing; SpongeBuck has a bow-tie, a black bowler hat with a bell, a striped shirt and a pocket watch (tucked into his pocket, the chain hangs loose). SpongeBuck was fairly easy to please, and he loved to Spurskate.
His favorite foods are chili, ice cream, and 2% reduced fat milk.
He is voiced by Tom Kenny.
He looks alot like Sherm SquarePants and SpongeBob.
Unlike his descendent, SpongeBob, SpongeBuck was apparently a terrible cook.
Ad blocker interference detected!
Wikia is a free-to-use site that makes money from advertising. We have a modified experience for viewers using ad blockers

Wikia is not accessible if you've made further modifications. Remove the custom ad blocker rule(s) and the page will load as expected.