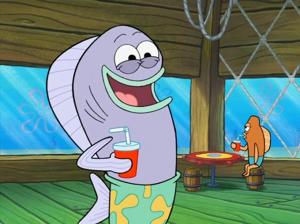 Scooter/Appearances
Episodes
Ripped Pants (debut)
MuscleBob BuffPants
Texas (non-speaking minor role)
Walking Small
Neptune's Spatula
Hooky
Something Smells
Bubble Buddy
Squirrel Jokes
Patty Hype
Pre-Hibernation Week
Band Geeks
Mermaid Man and Barnacle Boy IV
SpongeGuard on Duty
Party Pooper Pants
My Pretty Seahorse
SpongeBob Meets the Strangler
Good Neighbors
SquidBob TentaclePants
Whale of a Birthday
Once Bitten
Wigstruck
Born to be Wild
Sing a Song of Patrick
The Two Faces of Squidward
Banned in Bikini Bottom
Suction Cup Symphony
A Life In a Day
Sun Bleached
Giant Squidward
No Nose Knows
Sand Castles in the Sand
Shell Shocked
Sponge-Cano
Earworm
The Way of the Sponge (cameo)
Karen 2.0
Demolition Doofus
Move It or Lose It
Squid Baby
Bumper to Bumper
Jailbreak!
It Came From Goo Lagoon
Safe Deposit Krabs
Kenny the Cat
SpongeBob You're Fired
Lost in Bikini Bottom
The Executive Treatment
Sanctuary!
What's Eating Patrick?
Ad blocker interference detected!
Wikia is a free-to-use site that makes money from advertising. We have a modified experience for viewers using ad blockers

Wikia is not accessible if you've made further modifications. Remove the custom ad blocker rule(s) and the page will load as expected.