Basoon Vlad Verkarius Lebeark Squichèzè was in the episode The Card when he was noted for his dialogue. He said "Some of us have withdrawals to make 'know!" He said that because he was in a bank and because SpongeBob was being picky about the money and later, he was kicked out (literally).
He is orange and wears the typical black and white stripes of a prisoner. He wears blue trousers. His outfit looks a little different from other robbers.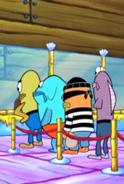 Ad blocker interference detected!
Wikia is a free-to-use site that makes money from advertising. We have a modified experience for viewers using ad blockers

Wikia is not accessible if you've made further modifications. Remove the custom ad blocker rule(s) and the page will load as expected.