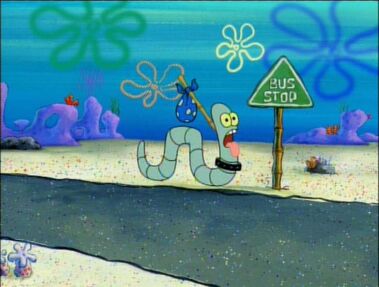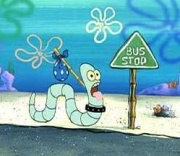 Rex
 is a pet worm that SpongeBob took in after Gary left him in the episode "Dumped." Ironically, Rex left on the bus after SpongeBob was saying worms are "So loyal, so trusting, always by my side!" Rex has only appeared in that episode. Rex was only bought in attempts to make Gary jealous and realize that he should go back to SpongeBob. Rex makes few noises, but he pants and barks maybe once or twice. The only trick he can do is "stay." He did not stay for long considering the fact that almost immediately after that he went to the bus stop.
Trivia Edit
Edit
Rex looks a bit like Jan and Mr. Doodles, but he has a color shade of light teal.
Similar worms have appeared in other episodes, most recently "Plankton's Pet."
Rex makes an on-screen appearance for about 25 seconds.
Rex resembles an underwater version of a dog as the snails represent underwater versions of cats. For example, SpongeBob expects Rex to do tricks, he barks, and pants with his tongue out.
Rex and Mr. Doodles are very close in color while Jan does not.
Rex almost immediately ditches SpongeBob after about 25 seconds.
Lary, along with Rex, was bought to make Gary jealous.
In this episode where Rex appears it is revealed that SpongeBob has a realistic looking snail in his pocket named Jerry.