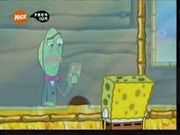 Quincy is a banker at the Bikini Bottom Bank. His first appearance was in The Card where he gets annoyed by SpongeBob and then kicks him out. His second appearance was in Kracked Krabs, but purple, he worked at the Om Hotel. His third appearence was in Model Sponge where he works at the bank again where he hired SpongeBob but fired him when he messed up and he kicked out again.
Ad blocker interference detected!
Wikia is a free-to-use site that makes money from advertising. We have a modified experience for viewers using ad blockers

Wikia is not accessible if you've made further modifications. Remove the custom ad blocker rule(s) and the page will load as expected.