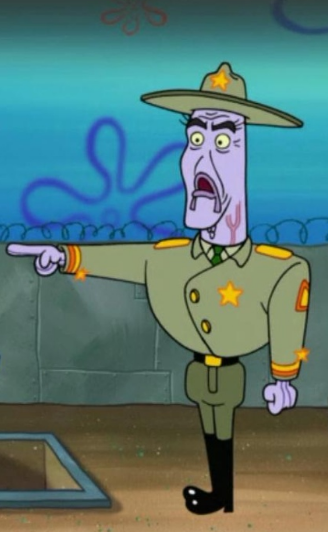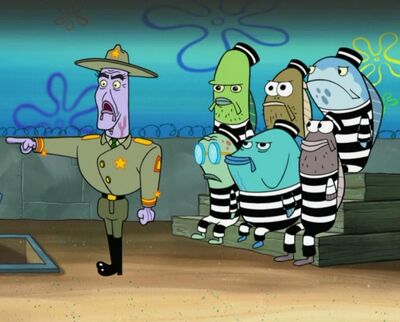 This 
Prison Warden
 appears in the episode 
The Inmates of Summer
. He keeps the Prison, titled 
Inferno Island
 in order, and he is very harsh to the criminals. He hates almost everything except the play that 
SpongeBob
arranged. He is tall and he wears a green suit, and hat. He is very cruel to SpongeBob and 
Patrick
, even though they were not supposed to be there. He acts like a military sergeant/prison guard, and is very horrible and tough. He's voiced by 
Ronald Lee Ermey
. The Prison Gaurd is a parody of the Drill Sargent that Mr. Ermey played in the movie "Full Metal Jacket."
"WHAT IN THE SEVEN SEAS JUST ASSAULTED MY EAR DRUMS"!
"BARNEY, go fetch these two hungry souls a snack...ON THE DOUBLE".
"IT'S TOO EARLY IN THE MORNING FOR ME TO WANT TO CHEW SOMEBODY'S HEAD OFF!!"
"WHAT IN BLAZES?!? *The prisoners try to escape on the fake boat*"
"FOR NEPTUNE'S SAKE MAN, SPEAK THE KING'S ENGLISH!" when camp director shows up.
"A couple days in the hole never hurt anyone..."
The Warden is voiced by Ronald Lee Ermey, the same actor who played Gunnery Sergant Hartman in Full Metal Jacket (Ermey's portrait of Hartman has been parodied in popular culture).
He has pretty much yelled the entire episode he was in and rarely talks in a goodnatured voice.
Ad blocker interference detected!
Wikia is a free-to-use site that makes money from advertising. We have a modified experience for viewers using ad blockers

Wikia is not accessible if you've made further modifications. Remove the custom ad blocker rule(s) and the page will load as expected.