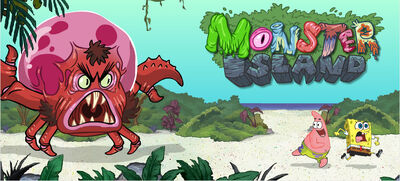 Monster Island
is a place where all the monsters live far away near the ocean. and near a place at
Goo Lagoon
. Also,
Monster Island
is a series of online SpongeBob games that will come out from August 9 to August 13 on SpongeBob.com. A preview can be viewed to see how it began: SpongeBob and Patrick are shipwrecked upon an island inhabited by scary monsters. You help them uncover the island's mysteries and make a great escape through a series of games. It will only be seen in the episode Monster Island For Monsters! and in the movie THE ADVENTURES OF GARY THE SNAIL MOVIE.
Ad blocker interference detected!
Wikia is a free-to-use site that makes money from advertising. We have a modified experience for viewers using ad blockers

Wikia is not accessible if you've made further modifications. Remove the custom ad blocker rule(s) and the page will load as expected.