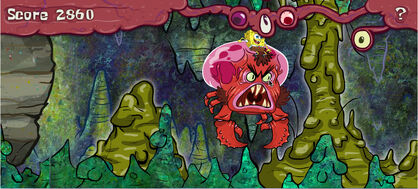 The fifth and final game comes out on August 13. SpongeBob encounters a giant, floating monster with a jellyfish-like brain. Suddenly, a huge rock caves in and goes straight for SpongeBob! By controlling the floating monster, SpongeBob makes a quick escape. Press the spacebar or click the mouse to break rocks in the way to avoid getting squished. Hold it to build up power and release to easily break rocks. Collecting crystals will only increase your score. After you beat the game, SpongeBob sees Patrick and a turtle monster. He yells at him to jump on the monster, and so Patrick does. Then, the mountain picks its "nose" and flicks SpongeBob and Patrick away into the horizon. This is the end... or is it?
Ad blocker interference detected!
Wikia is a free-to-use site that makes money from advertising. We have a modified experience for viewers using ad blockers

Wikia is not accessible if you've made further modifications. Remove the custom ad blocker rule(s) and the page will load as expected.