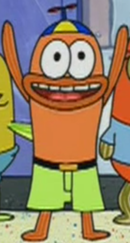 Monroe Timothy Rechid is an orange child fish who lives in Bikini Bottom and is Sadie's step-son. Monroe is 10 years old now and goes to the Bikini Bottom School with his brother Tommy. Monroe appeared in many episodes of SpongeBob including "Krabby Land". In SquidBob TentaclePants, he is having a birthday. Also, he appeared in Mrs. Puff, You're Fired when he was thrown into a door by Sergeant Roderick after accepting his bonbon. He doesn't like pistachio ice cream cones, as seen in Hocus Pocus.
Ad blocker interference detected!
Wikia is a free-to-use site that makes money from advertising. We have a modified experience for viewers using ad blockers

Wikia is not accessible if you've made further modifications. Remove the custom ad blocker rule(s) and the page will load as expected.