Miss Tuffsy was the previous sea snail owned by Grandma before she took in Gary. It is implied that Miss Tuffsy died due to Grandma overfeeding her to fatten her up to be eaten.
Description Edit
Edit
Miss Tuffsy herself has never been seen in the show. However, it is possible that one of the snails in the picture on Grandma's wall could be Miss Tuffsy.
History Edit
Edit
She is only mentioned in the episode, "Have You Seen This Snail?," where Grandma mistakes Gary for Miss Tuffsy, and treats him like if he were her: They go shopping, to a beauty salon, listen to music, and watch movies. After Gary realizes her plan, he escapes her house. Grandma follows him, and picks up one of the Alley Snails Gary met in the alleyway, thinking again it is Miss Tuffsy.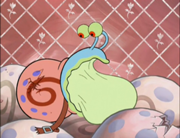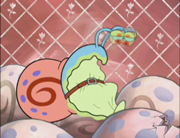 Ad blocker interference detected!
Wikia is a free-to-use site that makes money from advertising. We have a modified experience for viewers using ad blockers

Wikia is not accessible if you've made further modifications. Remove the custom ad blocker rule(s) and the page will load as expected.