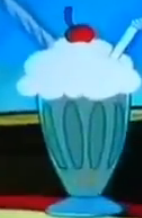 A? milkshake? is dessert served at the? Krusty Krab? in the episode "License to Milkshake". It makes its biggest appearence in that episode to date.
Ice Cream (SpongeBob uses Vanilla, Chocolate, and Strawberry)
Whipped Cream
A Cherry on top
License to MilkshakeEditEdit
In this episode,? Harold? asks for a milkshake.? SpongeBob? makes one for him, however, it is frozen solid.? Mr. Krabs? then takes Spongebob to the? Milkshake Academy? to learn how to properly make milkshakes from? Captain Frostymug. Even though all of the training, Spongebob contiunes making frozen milkshakes and eventually fails. However, after saving Frostymug from a blender, he learns from Frostymug how to properly make a milkshake. Spongebob then uses his own body to make a milkshake, to which, Harold is highly pleased.
Ad blocker interference detected!
Wikia is a free-to-use site that makes money from advertising. We have a modified experience for viewers using ad blockers

Wikia is not accessible if you've made further modifications. Remove the custom ad blocker rule(s) and the page will load as expected.