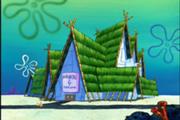 Mattresses & Then Some is a store that SpongeBob and Patrick went to in The Lost Mattress. The building is metal with green shingles and supports made of bamboo. It has a sign on the front that says Matresses & Then Some. They went here to get a matress for Mr. Krabs.
Bouncy Mattress
Soft Mattress
Hard Mattress
Race Car Mattress (also a driveable car)
Spiky Mattress
Remote-Control Mattress
This is one of two mattress stores in Bikini Bottom. The other was Mattress Discount.
Ad blocker interference detected!
Wikia is a free-to-use site that makes money from advertising. We have a modified experience for viewers using ad blockers

Wikia is not accessible if you've made further modifications. Remove the custom ad blocker rule(s) and the page will load as expected.