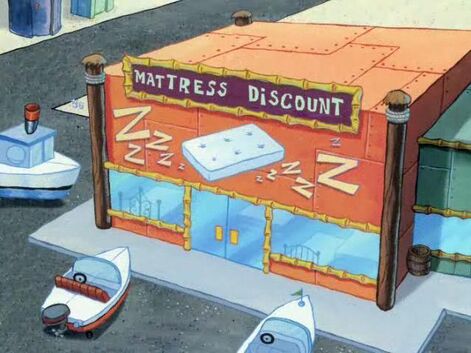 Mattress Discount? is a furniture store that sells mattresses. It's only appearance occurred in "Ghost Host."
It was seen in that episode when the? Flying Dutchman? tried to scare one of its customers. This place was also made to sell a lot of Mattresses.
This store, judging by the name, should have discounts for its products. The store allows its customers to test out the mattresses even if they sleep on them.? Tom? is the only known person to work there, but it is possible that there is somebody else. There was another Mattress store bigger than this one in? The Lost Mattress.
The store looks like a typical place you'd find in an industrial estate. It is red and has an image of a mattress on the front, surrounded by "Z"'s. The store also has pictures of its products.
Mattress Discount is an obvious parody of the real life mattress store? Mattress Discounters.
Ad blocker interference detected!
Wikia is a free-to-use site that makes money from advertising. We have a modified experience for viewers using ad blockers

Wikia is not accessible if you've made further modifications. Remove the custom ad blocker rule(s) and the page will load as expected.