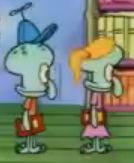 The Little Squids are a group of two young squids who were seen in a cameo appearance in Ditchin'. They were seen waiting in line at Near Mint Comic Books, waiting for an autograph from Mermaid Man and Barnacle Boy. It is possible that they are related to Squidward, due to them being squids, as Squidward is.
The boy squid has a red tee-shirt on and is wearing a blue propeller cap.
The girl, on the other hand, appears to have blonde locks and is wearing a pink dress.
Ad blocker interference detected!
Wikia is a free-to-use site that makes money from advertising. We have a modified experience for viewers using ad blockers

Wikia is not accessible if you've made further modifications. Remove the custom ad blocker rule(s) and the page will load as expected.