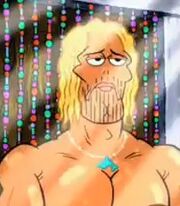 Jack Kahuna Laguna Also Known As Jkl (voiced byJohnny Depp ) is a surfing legend that lives on an island. He is prone to bongo solos, and he teaches this talent toSpongeBob. Though he is a sea creature, he is somehow a very humanoid in an appearance.
His surfboard was so long, that even Squidward fainted for around 10 minutes after seeing his surfboard reaching over 20m into the water out of his house!
He lived on a hut that was made out of wood that was decorated with beads on the Kahanahahamoku Cove, which was just upriver from Twitch and his gang. SpongeBob accidentally found Kahanahahamoku Cove after wanting to stop by to tie his shoe (which made Squidward say, "Again?!") behind a huge bush which he found a sign that read: Kahananamoku Cove: Home of J.K.L.
During SpongeBob vs. The Big One, he was the one to go inside the Big One so that the Bikini Bottomites and Cashie would live, and he too survived the Big One's demanding of a sacrifice which was against the legend that one person wouldnt come back alive.
It is unknown if he is ever going to be in a other episode
JKL is his name for short and Jack Kahuna Laguna is his real full name
His surf board is really, really, really, really, really, really long
He is voiced by johhny depp
Though he sacrificed himself, He appeared again at the end of the episode, so the big one had no real sacrifice.
Ad blocker interference detected!
Wikia is a free-to-use site that makes money from advertising. We have a modified experience for viewers using ad blockers

Wikia is not accessible if you've made further modifications. Remove the custom ad blocker rule(s) and the page will load as expected.