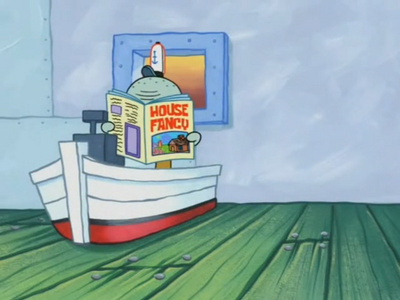 The House Fancy Magazine is a related product that might be linked to the show. The only known confirmed reader of the magazine is Squidward. It is a recurring feature in the series starting in To SquarePants or Not to SquarePants. This magazine along with Art, Frown Digest, and many other magazines are often read by Squidward.
The magazine may be from a different company since it does not share the same logo as its television counterpart.
The only time it was not read by Squidward was in Sentimental Sponge.
It can be assumed Squidward has been reading it to find the review for his awarded residence during the annual competition.
Ad blocker interference detected!
Wikia is a free-to-use site that makes money from advertising. We have a modified experience for viewers using ad blockers

Wikia is not accessible if you've made further modifications. Remove the custom ad blocker rule(s) and the page will load as expected.