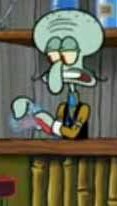 Hopalong Tentacles is a bartender at the Krusty Kantina. He first appeared in the episode Pest of the West and so far that was his only appearance. He plays the piano during a song by putting 5 cents into the coin slot. Like his descendant, Squidward, he thinks Spongebuck (SpongeBob toward Squidward) is annoying. He sells milk, root beer and perhaps other beverages. It is unknown where he actually lives, he could possibly stay in Dead-Eye Inn. He thinks William Krabs is cheap just like the real Mr. Krabs. His name is a parody of Hopalong Cassidy, a fictional cowboy created by author Clarence E. Mulford.
Ad blocker interference detected!
Wikia is a free-to-use site that makes money from advertising. We have a modified experience for viewers using ad blockers

Wikia is not accessible if you've made further modifications. Remove the custom ad blocker rule(s) and the page will load as expected.