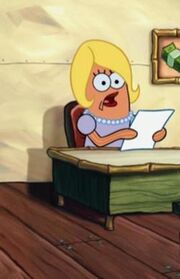 Help Wanted Lady is a lady that lives in New Kelp City, and works in the N.K.C Bank. She appears in these three Episodes: Culture Shock (seen as a reporter), What Ever Happened to SpongeBob? and Porous Pockets. In What Ever Happened to SpongeBob?, she works in the Bank. In Porous Pockets she is one of SpongeBob's 497 friends and is difficult to spot. She also appears in Suction Cup Symphony as one of the flute players. It is unknown if she will ever appear as a background character in future episodes again. She is also afraid of the Bubble Poppin' Boys, like everyone in New Kelp City is. She is possibly a parody of Diane Ortega from the episode: Culture Shock.
Ad blocker interference detected!
Wikia is a free-to-use site that makes money from advertising. We have a modified experience for viewers using ad blockers

Wikia is not accessible if you've made further modifications. Remove the custom ad blocker rule(s) and the page will load as expected.