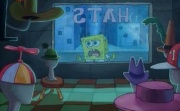 Hats is a hat shop first seen in the episode: My Pretty Seahorse. SpongeBob and Mystery go here to buy hats.Patrick tries to go inside at the end of the episode, but the wooden plank on his forehead blocks him from entering.
Hats are shaped like a pink sphere and has a large sign that reads its name. The window is large and circular. The interior is revealed in the episode "Have You Seen This Snail?". It also contains many hats.
Ad blocker interference detected!
Wikia is a free-to-use site that makes money from advertising. We have a modified experience for viewers using ad blockers

Wikia is not accessible if you've made further modifications. Remove the custom ad blocker rule(s) and the page will load as expected.