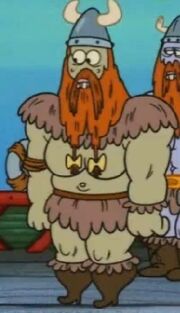 Gordon is the leader of the large group of Vikings, outside of Bikini Bottom. He was sent to the Krusty Krab after his chieftain got SpongeBob's letter to the Vikings that Mr. Krabs had told him about, and they came to give him a visit, and kidnapped him and Squidward. Gordon told SpongeBob, and Squidward that all of the Viking's names are Olaf, but it then turns out that his name is Gordon, Squidward obviously thought it would be Olaf as well. He ordered the execution of an Olaf that said the Vikings sing. They have a boat, and they crashed it in a big block of ice, but with the help of SpongeBob, it was patched up. Gordon has not made any more appearances.
"WE'RE VIKINGS. OUR CHIEFTAIN SENT US HERE BECAUSE, WE GOT THIS LETTER."
"THAT'S RIGHT. GORDON."
"WAIT, YOU FORGOT YOUR BLANKET!"
Gordon is voiced by Lan McShane.
He's the only viking in the episode not named Olaf.
He only appeared in Dear Vikings.
Ad blocker interference detected!
Wikia is a free-to-use site that makes money from advertising. We have a modified experience for viewers using ad blockers

Wikia is not accessible if you've made further modifications. Remove the custom ad blocker rule(s) and the page will load as expected.