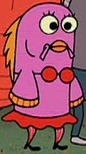 Evelyn Waters/appearances
Appearances
​​"Walking Small" (debut)
"Neptune's Spatula"
"Bubble Buddy"
"Life of Crime"
"Band Geeks" (name revealed)
"Sailor Mouth"
"The Fry Cook Games"
"The Great Snail Race"
​The SpongeBob SquarePants Movie ​​(cameo)
"SquidBob TentaclePants"
"Whale of the Birthday" (cameo)
"All That Glitters" (white eyes covered by Tina Fran)
"Once Bitten"
"Best Day Ever"
"The Krusty Sponge"
"SpongeHenge"
"Stanley S. SquarePants"
"Spongicus" (cameo)
"Not Normal"
"Gone" (cameo)
"Slide Whistle Stooges" (Shaped like Shubie)
"Sun Bleached" (She was taking her son Tyler Fishbowl to the party, and she was tan. When she was taking him he was a baby but Tyler did not go to the party)
"No Nose Knows" (That time, she was blue instead of pink, she does not speak)
"Krusty Krushers"
"Professor Squidward"
"No Hat for Pat"
"Chum Bucket Supreme"
"Kracked Krabs"
"SpongeBob's Last Stand"
"The Cent of Money"
"Tunnel of Glove"
"Love That Squid"
"Whirly Brains" (cameo)
"Mermaid Pants"
Ad blocker interference detected!
Wikia is a free-to-use site that makes money from advertising. We have a modified experience for viewers using ad blockers

Wikia is not accessible if you've made further modifications. Remove the custom ad blocker rule(s) and the page will load as expected.