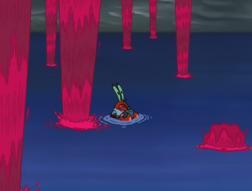 The Dutchman's Triangle just appears in the episode: SpongeBob SquarePants vs. The Big One. It is a triangle.
Mr.Krabs lands there by the Wave with his beloved Cash register, Cashy.
Information and Trivia EditEdit
The Dutchman's Triangle is said to rain jelly donuts and its waters are quite calm.
Waterspouts of blood may shoot out of the water sometimes.
Ad blocker interference detected!
Wikia is a free-to-use site that makes money from advertising. We have a modified experience for viewers using ad blockers

Wikia is not accessible if you've made further modifications. Remove the custom ad blocker rule(s) and the page will load as expected.