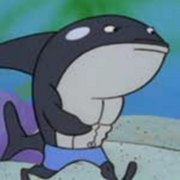 Don the Whale/Appearances
Episodes
# Title Role(s) in episode
2b "Ripped Pants" (tr) Debut; he lifts weights in the weight lifting scene.
11a "MuscleBob BuffPants" (tr)
18a "Texas" (tr)
18b "Walking Small" (tr)
19b "Neptune's Spatula" (tr)
23b "Bubble Buddy" (tr)
25a "Wormy" (tr) He appears when SpongeBob and Patrick tell a group of people that a monster is on the losse.
25b "Patty Hype" (tr)
28 "Christmas Who?" (tr)
145a "Buried in Time" (tr) Cameo
168b "Fiasco!" (tr)
188a "Kenny the Cat" (tr)
195b "Larry's Gym" (tr)
201a "Sandy's Nutmare" (tr) Cameo in the back of the crowd buying Nutty Butter.
203a "Pineapple Invasion" (tr)
Video Games
Lights, Camera, Pants! - He is both the judge for the Goo Lagoon levels and part of one of them.
Movies
The SpongeBob Movie: Sponge Out of Water
Ad blocker interference detected!
Wikia is a free-to-use site that makes money from advertising. We have a modified experience for viewers using ad blockers

Wikia is not accessible if you've made further modifications. Remove the custom ad blocker rule(s) and the page will load as expected.