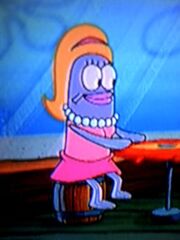 Debra "Debbie" Carrie Rechid is a purple fish who wears a red headband, pearl necklace, and pink dress. Debs and Fred Rechid are her mother and father. Her step-mother is Sadie Rechid, and she is the older sister of her two brothers, Monroe and Tommy Rechid. She goes to Bikini Bottom High School. Her ex-boyfriend is Harold.
Ad blocker interference detected!
Wikia is a free-to-use site that makes money from advertising. We have a modified experience for viewers using ad blockers

Wikia is not accessible if you've made further modifications. Remove the custom ad blocker rule(s) and the page will load as expected.