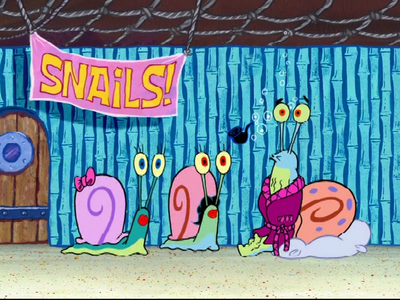 Clover is a Girl Snail who just appeared in the first series of season three in the T.V. series "The Adventures Of Gary The Snail". She was seen in "What If SpongeBob Was Gone? Shorts". She has a purple shell and a pink ribbon and a dark purple swirl just like Mary the Snail's but different and has a red lipstick and a teal snail's body and next to a snail named Sweet Sue. When Gary was having a party in his living room along with the rest of the snails somebody threw all of SpongeBob's stuff back inside his house and Gary got hurt. She is the voice by 
Jocelyne Loewen.
Ad blocker interference detected!
Wikia is a free-to-use site that makes money from advertising. We have a modified experience for viewers using ad blockers

Wikia is not accessible if you've made further modifications. Remove the custom ad blocker rule(s) and the page will load as expected.