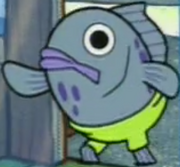 Buddy Fish/Appearances
"Ripped Pants" (debut)
"Pickles" (cameo)
"Your Shoe's Untied" (cameo)
"Bubble Buddy"
"The Fry Cook Games"
"Sandy, SpongeBob, and the Worm"
"The Algae's Always Greener"
"Squilliam Returns"
"The Great Snail Race"
The SpongeBob SquarePants Movie
"Bummer Vacation"
"Le Big Switch"
"SpongeHenge" (cameo)
"Krusty Krushers"
"Are You Happy Now?"
"Extreme Spots"
"Sandy's Nutmare"
"Pineapple Invasion" (cameo)
"Mutiny on the Krusty"
"Whirly Brains"
"The Whole Tooth"
Ad blocker interference detected!
Wikia is a free-to-use site that makes money from advertising. We have a modified experience for viewers using ad blockers

Wikia is not accessible if you've made further modifications. Remove the custom ad blocker rule(s) and the page will load as expected.