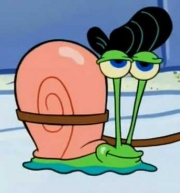 Billy the Snail is a snail who only appeared in the episode "Gary in Love". His owner is called Brad. After Billy came back from going for a walk with Brad, he becomes Mary's new boyfriend, which makes Gary and Mary's Ex-boyfriend very sad. Billy has a pink colored shell like Gary but on his shell there are no dots, just red lines like Gary's, just thinner. He has a green-blue skin, black hair and blue eyes with a brown leash. Billy the Snail can be only seen in the hit series "The Adventures Of Gary The Snail." He is the voice by Adam West.
When he says "meow", instead of saying it like a cat (like most snails), he is voiced by a man.
Ad blocker interference detected!
Wikia is a free-to-use site that makes money from advertising. We have a modified experience for viewers using ad blockers

Wikia is not accessible if you've made further modifications. Remove the custom ad blocker rule(s) and the page will load as expected.