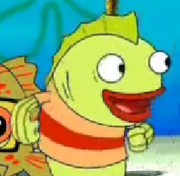 Billy Fishbowl/Appearances
# Title Role(s) in Episode
Episodes
"Pickles" (tr) (Debut)
"Employee of the Month" (tr)
"Walking Small" (tr) (Name Revealed by Evelyn)
"Neptune's Spatula" (tr)
"Wormy" (tr)
"Patty Hype" (tr)
"Prehibernation Week" (tr)
"Christmas Who?" (tr)
"I'm Your Biggest Fanatic" (tr)
"The Smoking Peanut" (tr)
"The Fry Cook Games" (tr)
"Squid on Strike" (tr)
"Sandy, SpongeBob, and the Worm" (tr)
"The Great Snail Race" (tr) Appears in crowd scene
"Krabs vs. Plankton" (tr)
"The Pink Purloiner" (tr)
"Squid Wood" (tr)
"Fungus Among Us" (tr)
"Slimy Dancing" (tr)
"The Krusty Sponge" (tr)
"The Two Faces of Squidward" (tr)
"Spongicus" (tr) Few brief cameos
"Suction Cup Symphony" (tr)
"Krusty Krushers" (tr)
"Tentacle-Vision" (tr) Briefly involved on T.V.
"Stuck in the Wringer" (tr)
"The Cent of Money" (tr)
"The Wreck of the Mauna Loa (tr) Brief cameo
"Love That Squid" (tr)
"Fiasco!" (tr)
"Planet of the Jellyfish" (tr) Major appearance
"Are You Happy Now?" (tr)
"Free Samples" (tr)
"Karen 2.0" (tr) Cameo
"Squiditis" (tr)
"For Here or to Go" (tr)
"It's a SpongeBob Christmas" (tr)
"Jailbreak" (tr)
"Kenny the Cat" (tr)
"What's Eating Patrick?" (tr)
Movies
# Title Role(s) in episode
"The Emperor's New Groove" (tr) Cameo
Ad blocker interference detected!
Wikia is a free-to-use site that makes money from advertising. We have a modified experience for viewers using ad blockers

Wikia is not accessible if you've made further modifications. Remove the custom ad blocker rule(s) and the page will load as expected.