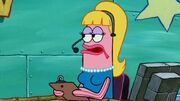 The BBTV Lady (unofficially known as the Bikini Bottom Television Lady) is a pink fish that works for the BBTV News company. She is at the front desk of the BBTV Casting building, and holds auditions for Commercials, and what not. She is pink with blonde hair, a blue shirt, and a pearl necklace. She told SpongeBob that he auditioned horribly. She appears in Model Sponge, for the precise reason that she gets her name. In an upcoming Spongebob Squarepants episode her name will be revealed to be Alexandra "Alex" Solaria New Kelper since she is the daughter of New Kelp City's mayor. Her look is almost like Debbie Rechid, due to her wearing a pearl necklace.
Ad blocker interference detected!
Wikia is a free-to-use site that makes money from advertising. We have a modified experience for viewers using ad blockers

Wikia is not accessible if you've made further modifications. Remove the custom ad blocker rule(s) and the page will load as expected.