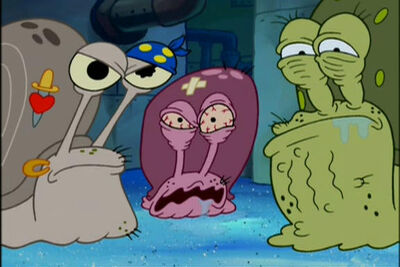 The Alley Snails just appeared in the episode Have You Seen This Snail? They live in the alley ways. Also they tried to become friends with Gary but Gary runs away from them all because they scared him, but they thought it was because he doesn't want any nachoes. They've only been seen in the hit T.V. series "The Adventures Of Gary The Snail."
In the online game Have You Seen This Snail, the gray snail who said "Look who came to dinner." has a name called "Old Snail."
Ad blocker interference detected!
Wikia is a free-to-use site that makes money from advertising. We have a modified experience for viewers using ad blockers

Wikia is not accessible if you've made further modifications. Remove the custom ad blocker rule(s) and the page will load as expected.