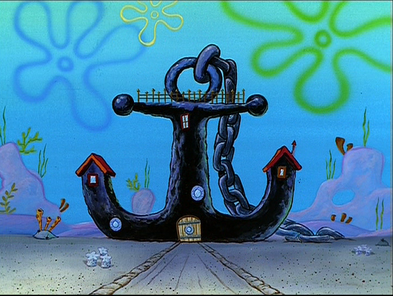 3451 Anchor Way is Mr. Krabs' and Pearl Krabs' anchor house (as seen by the address on Mr. Krabs' license). This house is three stories high, with a basement and a cellar.
The basement is a large room. It has a washing machine and dryer, along with a work bench (Wet Painters). In "The Slumber Party", the basement is shown with many barrels of root beer. It might be possible that this was a different room since it was not considered a basement, but in "Barnacle Face" the basement was a dungeon like place where Mr. Krabs makes his soap out of Krabby Patties.[1]The dining room.Added by AMK152On the first floor is the living room; there are many valuable items, pictures, and a vending machine. The first floor is painted white on the walls, in "Wet Painters". By the front door is a barrel TV. The kitchen and dining room are all in one room. In the dining room, there is a table, chair, and a window with a curtain.
The second floor to the right side of the house contains Mr. Krabs' bedroom. He sleeps in a hammock and has a bedside shelf. A bathroom is connected from the bedroom which includes a toilet and a sink with a mirror.
Pearl's bedroom is located on the left side of the house and contains a bed and walls filled with Boys Who Cry posters as she is a huge fan of the band.
There is another floor in the center of the house in the episode "Barnacle Face". On this floor may be the master bathroom. The bathroom contains a toilet, and a sink.There is a balcony on the top of the house.
Trivia Edit
Edit
The anchor is about 22 1/2 inches high.
Ad blocker interference detected!
Wikia is a free-to-use site that makes money from advertising. We have a modified experience for viewers using ad blockers

Wikia is not accessible if you've made further modifications. Remove the custom ad blocker rule(s) and the page will load as expected.